Healthcare Distribution Company In Jamaica
Recharged Distributors Limited trading as RDL Distributors is a company registered by the Registrar of Companies in Jamaica and approved by the Pharmacy Council of Jamaica. RDL Distributors' presence in the marketplace will see keen attention given to the pharmaceutical, nutraceutical, medical devices, medical supplies and excellent customer service to the distribution trade. While RDL Distributors is a young company it has a well learned and experienced team including Physician, Pharmacists and Technology Consultant on it's Board of Directors.
The shareholders vision is for the company to be the leading healthcare distribution company in the Caribbean Region which is financially profitable and provides service of the highest imaginary quality to its customers.
RDL Distributors is committed to provide the most appropriate technologically advanced medical devices to medical practitioners and consumers, provide the best all natural health products and prescription drugs to the distribution trade at a competitive price backed by excellent customer service.
RDL Distributors is the exclusive distributor of Standard Diagnostics, Inc (SD) Rapid Test Kits in Jamaica W.I. On April 5, 2010, STANDARD DIAGNOSTICS, INC. organized under the Law of the Republic of Korea and having its principal office at 156-68 Hagal-dong, Gihenung-gu, Yongin-si, Kyonggi-do Korea authorized Recharged Distributors Limited of Kingston Jamaica as its distributor in that country for the registration, importation, distribution and to sign for public contract for SD Rapit Test Kits.
Company Certification & Awards
The Customer Service and Distribution facility of RDL Distributors is located at 136 Maxfield Avenue, Kingston 10, Jamaica W.I. and is a Good Manufacturing Practice (GMP) facility certified by the Ministry of Health & Environment and the Pharmacy Council of Jamaica. The company's operation is approved by the National Contracts Commission (NCC) under the category of Medical, Pharmaceutical and Equipment Supplies. The NCC is the Government body responsible for certifying suppliers to provide goods and services to the Government of Jamaica as stipulated by the Government Procurement Guidelines.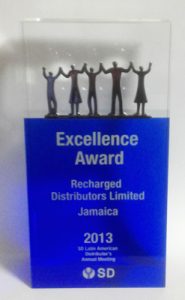 This award was bestowed upon Recharged Distributors Limited in recognition of its exceptional performance in the sales of Syphilis & Dengue Duo test kits in 2012. As a consequence, SD sales of Recharged Distributors Limited increased by 61% compared to 2011 and its dedicated commitment to customer service and market growth is highly recognized and appreciated.